Amidst UNESCO Biosphere Reserve Salzburg's Lungau lies Weissenstein Nature Retreat – in the lively holiday destination St. Michael im Lungau, which, like the entire region, is committed to conscious, sustainable development. Stunning landscapes, gentle hills, traditional farms, important monuments, and authentic cuisine make up our beautiful region. Here's how to reach it.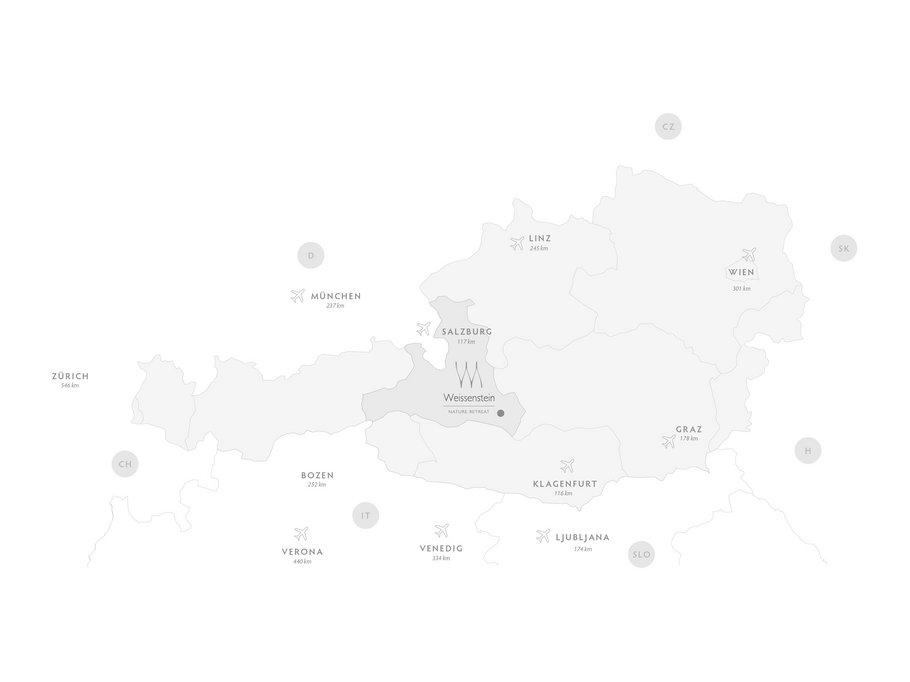 The fastest way to Weissenstein
From the north: Motorway Munich – Salzburg, A10/Tauern Autobahn until the St. Michael exit or on the B99 via Obertauern
From the east: Vienna – Semmering – Leoben – Unzmarkt – Murau – Ramingstein or Vienna – A1/West Autobahn until Salzburg and then as described above
From the south: Udine – Autostrada– Tarvisio – Villach – Katschberg tunnel – St. Michael exit
We're happy to pick you up from the closest train stations (Radstadt, Unzmarkt, and Spittal)! The following train stations are nearby:
Salzburg main station
Bischofshofen and Radstadt train stations
Unzmarkt train station
Spittal train station
Tamsweg train station (via Murau)
St. Michael can be reached via two airports:
Salzburg airport (110 kilometres away)
Klagenfurt airport (120 kilometres away)
For cheap flights, book directly with:
HLX
Austrian Airlines
Ryanair
a love letter from Weissenstein
Subscribe to our good news!